I bought one of these yesterday, too.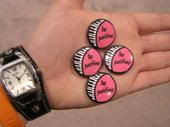 The money goes to the PCRF kids fund.
I wore it all day yesterday. Matt T. had one on his guitar strap, plus a bunch of other people had them. I meant to go back and listen to the whole Jack's Mannequin cd, they had it at the booth...like a little listening party. I completely forgot, though.